6:00 - Social Hour
7:00 - Fullmetal Alchemist: Brotherhood
7:25 - Gekkan Shoujo Nozaki-kun
7:50 - Nobunagun
8:15 - Inari, Konkon, Koi Iroha
8:40 - Break
9:00 - Black Bullet
9:25 - Phi Brain: Kami no Puzzle
9:50 - Mahou Shoujo Madoka Magica
10:15 - OVA Slot
6:00 - Social Hour
7:00 - Fullmetal Alchemist: Brotherhood
Two brothers lose their mother to an incurable disease. With the power of "alchemy", they use taboo knowledge to resurrect her. The process fails, and as a toll for using this type of alchemy, the older brother, Edward Elric loses his left leg while the younger brother, Alphonse Elric loses his entire body. To save his brother, Edward sacrifices his right arm and is able to affix his brother's soul to a suit of armor. With the help of a family friend, Edward receives metal limbs - "automail" - to replace his lost ones. With that, Edward vows to search for the Philosopher's Stone to return the brothers to their original bodies, even if it means becoming a "State Alchemist", one who uses his/her alchemy for the military
7:25 Gekkan Shoujo Nozaki-kun
The romantic comedy story begins when high school student Sakura Chiyo confesses her feelings to her classmate Nozaki. Due to a misunderstanding, Nozaki thinks Sakura is just a fan of his shoujo manga work. Sakura has to convey her true feelings while her relationship with Nozaki develops.
7:50 - Nobunagun
Shio Ogura is a Japanese high school student, who is visiting Taiwan on a school trip when she is suddenly attacked by monsters. Agents known as "E-Gene Holders" from the government agency DOGOO also arrive, who wield weapons infused with the spirits of historical figures. Shio is revealed to also be an E-Gene Holder when the soul of Oda Nobunaga awakens after she tries to rescue a friend.
8:15 - Inari, Konkon, Koi Iroha
Fushimi Inari is a shy, not-so-bright middle school girl living in Kyoto's Fushimi ward. She has a crush on her classmate Tanbabashi, but cannot express her feelings. One day, as thanks for helping a fox pup, the deity Ukanomitama-no-kami grants her the ability to change her form.
8:40 - Break
9:00 - Black Bullet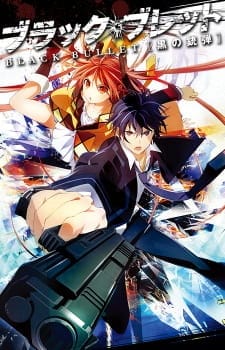 A near future, where humans have been defeated by the viral parasites named Gastrea. They have been exiled into a small territory and live in despair, side-by-side in terror.
In this world trapped in darkness—
Rentaro, a boy living near Tokyo and member of the "Civil Security"—an organization specializing in fighting against the Gastrea—is used to accomplishing dangerous tasks. His partner is Enju, a precocious young girl. They fight thanks to their peculiar powers until one day, when they receive a special assignment from the government. This top secret mission is to prevent the destruction of Tokyo...
Set in a near future, this thrilling heroic-action story... starts now!
9:25 - Phi Brain: Kami no Puzzle
Kaito Daimon is a brilliant 16-year-old teenager who loves to solve puzzles. He acquires an enigmatic item called the Armband of Orpheus that allows him to fully utilize his brain, but that consequentially drains him completely. Currently attending Root Academy as an honor student, he is invited by the school principal to confront a secret organization named POG that creates deadly Sage Puzzles to protect invaluable treasures and challenge the select few individuals capable of facing them. Given the title of Einstein, Kaito battles against the mysterious group in order to keep a promise he made as a kid while at the same time he heads towards the ultimate test: the Divine Puzzle.
9:50 - Mahou Shoujo Madoka Magica
She has a loving family and best friends, laughs and cries from time to time... Madoka Kaname, an eighth grader of Mitakihara middle school, is one of those who lives such a life. One day, she had a very magical encounter. She doesn't know if it happened by chance or by fate yet. This is a fateful encounter that can change her destiny—this is a beginning of the new story of the magical girls.
10:15 - OVA Slot